Visit Our World of Ikebana!
Chapter #65 of Ikebana International is located in Pinellas County, Florida and welcomes all who are interested in the Art of Japanese Flower Arrangement to our membership.
The Mission of our Chapter is to promote mutual understanding and continuing friendship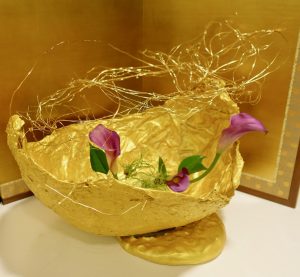 between our countries. Our goal is also to stimulate, cultivate, and perpetuate the study of Ikebana, and related arts and culture throughout the world.
Our programs run from September through May each year and are held on the third Monday of the month unless otherwise noted.
Meetings and programs are held at Chapel On The Hill in Evan's Hall, 12601 Park Blvd., Seminole, FL 33776 from 10 a.m. to 11:30 a.m.
The public is invited to view our programs and demonstrations for a free one-time visit. After that first visit, there is a $10 donation for any additional visit. Click here for Program Schedule. After the program, our Members and Guests usually stay for a "bring your own lunch" light bite.
Afternoon workshops in the various schools begin for Members at 1:00 p.m. Teachers (Sensei) set the fees for the workshops. Active participation in these Workshops is for Members only. Guests who attend the morning program may observe the related afternoon workshop to learn more about the Art of Ikebana.
Please let us know if you are planning to attend by completing our Contact Us Form. For a map with directions, Click Here.
Yearly memberships are available for $80 per individual and $120 per couple. You may join "on the spot" at any meeting. Benefits of membership are: low cost classes, free demonstrations, interesting and innovative programs, 3 issues of Ikebana International Magazine and great fun in "Friendship Through Flowers."