January Chapter #65 Demonstration/Luncheon
January 19 @ 9:30 am

-

2:00 pm
Event Navigation
The January Meeting will feature a Demonst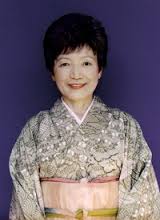 ration by Fusako Hoyrup, President of the California Wafu School.  Please Note:  The January Meeting is scheduled for Thursday, 1/19/2017.  To attend, you must submit the Reservation Form and fee.  The flyer with additional information on this event is available here.
The unique beauty of Wafu Ikebana stems from its design philosophy, which emphasizes natural beauty. Season by season, it is a discovery and an inner awakening to each flower's inherent beauty.  Nature has blessed us with abundance; in spring, cherry branches bloom bountifully, evoking feelings of eternal youth, while tall graceful miscanthus dances in the gentle autumn breeze. Beauty is everywhere and the Wafu style heightens nature's essence through creativity and mysticism.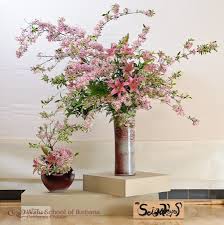 Wafukai arrangers strive for exquisite harmony between the flowers, the container, and the environment in which the arrangement is displayed. With a less restrictive approach to flower arranging than many other schools, the Wafukai philosophy teaches the practitioner "to arrange the flowers that you like – suitably – in a container that you like."  This philosophy nurtures each artisan's aesthetic sense while providing the artist with extensive ikebana instruction. There are infinite ways flowers fill us with hope and beauty!
For more information on the California Wafu School, please click here to see their website.
Program/General Meeting/ Formal Luncheon/ Basket Auction
If you are new to our Chapter and wish to attend, please submit a Contact Us Form in advance for luncheon and ticket information.