********
Ikebana International Philadelphia Chapter 71 is hosting their Annual Luncheon and Demonstration "Autumn Inspirations" featuring Jose Salcedo, 1st Term Master of the Ohara School. Save the date for Thursday, September 26, 9AM-2PM, with Workshops on Friday, September 27, 2019. This would make a marvelous trip to see the leaves change and enjoy Autumn!
The 18th North & Central American Regional Conference, hosted by Dallas Chapter 13 and Fort Worth Chapter 38 will take place Sunday, October 27 – Thursday, October 31, 2019 at the Sheraton Dallas Hotel, in the heart of Downtown Dallas and the Arts District! The theme is "Grow Ikebana!" So, grab your best buddies and plan to make this a shared trip of learning and great fun. Registration is available on their website and there's a $100 discount if you use the coupon code COOL before June 21st. Check it out by visiting their website here!
It is noteworthy that Ilse Beunen, Sogetsu Somu, has been added to the roster of 18th NCARC workshops. She will be doing two Sogetsu workshops for Conference registrants.
*********
Following the Seminar in Honolulu, Jeanne flew on to Japan where she found these astounding fields of Moss Phlox on the less frequently visited island of Hokkaido. We'll all remember that the Phlox bloom in May if we have the chance to visit this gorgeous site!
**********
Although we missed it, the 60th Anniversary of the Ohara School occurred in 2018. The arrangements below are by the current and fifth Headmaster, Hiroki Ohara. He is the great-great grandson of Unshin Ohara and has written that "(o)ur School's ikebana is not meant to be merely decorative. We take a life form called flowers and recreate their living space. The resulting arrangements must express the beauty and variations of life for others to see. This is the essence of Ohara School ikebana." Congratulations to our Ohara School members on continuing such a beautiful legacy!
*********
'Twas a Lovely Day in the Gardens! If you missed the First Annual Garden Tour you won't want to miss it next time! Sixteen of us learned a lot about plants and enjoyed the amazing Gardens of Sarita Lastrapes, Gretchen Warren and Aimee Jackson on a warm, breezy morning. And then we laughed and chatted our way through a delicious luncheon (planned by Karen Marder!) with sips of bubbly. It was not only fun, but endearing and we left closer friends than when we started. How nice is that?? Click on the thumbnail to enlarge and take a look!
******
We received the following message from Elizabeth Biddle, President of Chapter #1 in Washington, DC:
"It is with a heavy heart that I.I. Washington, D.C., Chapter No.1., reports that Allie Marie Umsted Uyehara passed away February 5, 2019. Our Chapter Board is discussing plans with her family for a celebration of life/memorial as well as donations in her honor. Once the plans are in place, we will notify you.
Cards and be sent to her daughter: Vera Uyehara, 653 Main Street, Wheeling, WV 26003-2525
For those wishing to leave condolences can do so on this site: https://www.grisellfuneralhomes.com/obituaries/Allie-Uyehara/
Allie was the first secretary of Ikebana International and contributed in many ways over her 64 years."
It is hard to forget someone who gave you so much to remember
Buddha
******
The NCARC Conference is scheduled for Oct 27-31, 2019 in Dallas, Texas! There will be many workshops and demonstrations and you are sure to find something delightful!
Professor Senko Ikenobo, Professor Manabu Noda as well as Professor Yoshiko LeSage will represent Ikenobo.
Soho Sakai, Riji and Kika Shabata, Riji will be representing Sogetsu.
Professor Jose Salcedo will be representing Ohara.
Master Elaine Jo will be representing Ichiyo.
This is certain to be a memorable event! To access registration information, please click here!
******
Miami Chapter #131 is celebrating their 50th Anniversary on March 29-31, 2019. Deadline for registration is March 1. Simply print and mail this Registration Form with your check and join the festivities.
******
Jeanne Houlton, our Ichiyo School Master, is hitting the road with Demonstrations in Washington DC on March 15, 2019 and in Denver on May 3-4, 2019. Click on the city to see flyers with more information!
******
Our Exhibitionists Extraordinaire, current and future! Please thank them for their tireless service to our Chapter!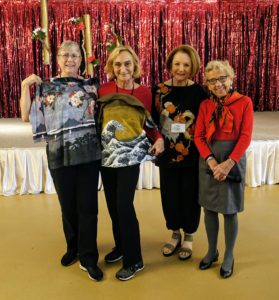 ********
Members of our Chapter participated in a beautiful exhibition at Westminster Suncoast on October 19-20, 2018. Take a look at some of our participants and many of the lovely designs!
*******
Ikebana International Chapter #65 at the Florida Crafts Gallery October 7 – 14, 2018: Kathy LaDuke wowed the standing room only crowd with beautiful Ichiyo designs! Five of our members also exhibited original designs using beautiful containers available at the Gallery. Take a look!
*****
Check out the Ichiyo Highlights from the 9th European Regional Conference that occurred in August, 2018 right here! There are some stunning designs that will take your breath away… If you have links to other schools from this Conference, please let me know. We'll be glad to post them for everyone as they are a wonderful source of inspiration!
******
Anne Marie Spriggs, our 2018-2019 Programs Chair and talented student of the Sogetsu School attended the 2018 European Regional Conference in Bruges, Belgium this summer. Here is her stunning creation from the Ilse Beunen Workshop on Lines: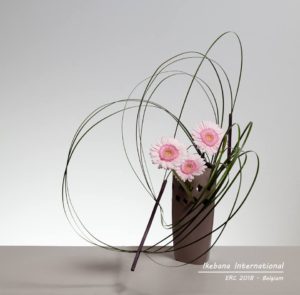 ******
Fall 2018 Sakura Newsletter! Our Sunken Gardens Exhibitions (February 2018) were featured in the recent edition of the Sakura Newsletter that goes to Members around the world! If you missed it, you can see it by clicking here!
Of Interest: Ikebana International Headquarters has an interesting site with information on each of the schools and the latest events. Check it out at:
www.ikebanahq.org/
The password for the Members Section is: 1956sakura
Dated September 2017: The following link will take you to a congratulatory letter and Certificate from Ikebana International in Tokyo acknowledging our 55th Anniversary!!
News from the World Convention 2017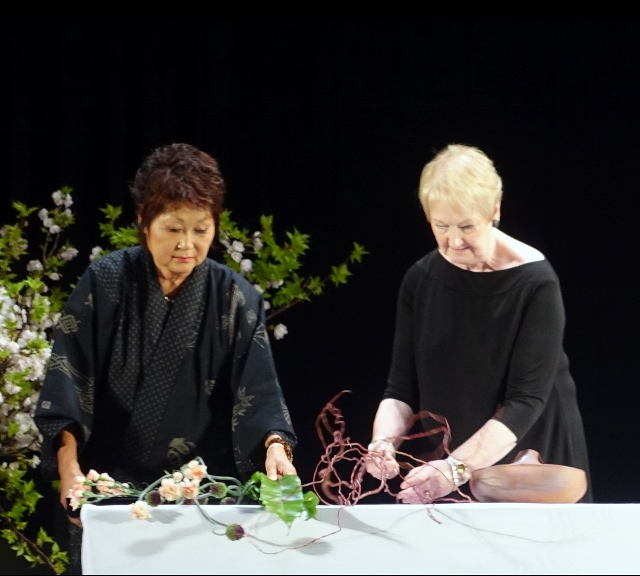 Donna Scott, (r) treasurer of Ikebana Chapter 265 Atlanta was the member demonstrator representing North America and the Ichiyo School. Jeanne Houlton (l), President of Ikebana Chapter 65 St. Petersburg was her asssistant.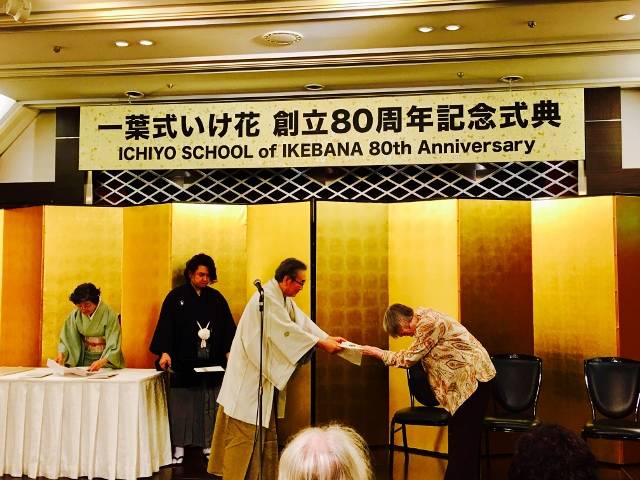 The Ichiyo School, Florida Chapter is proud to announce that our associate member, Gail Newman received her Junior Master Certificate from Iemoto Kasuya at a special event in Tokyo to celebrate the 80th anniversary of Ichiyo School On April 17, 2017.