Our Exhibitionists Extraordinaire, current and future! Please thank them for their tireless service to our Chapter!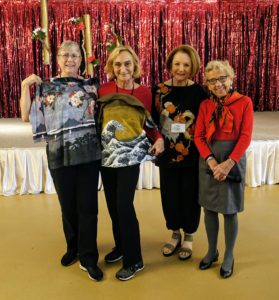 ********
Members of our Chapter participated in a beautiful exhibition at Westminster Suncoast on October 19-20, 2018. Take a look at some of our participants and many of the lovely designs!
*******
Ikebana International Chapter #65 at the Florida Crafts Gallery October 7 – 14, 2018: Kathy LaDuke wowed the standing room only crowd with beautiful Ichiyo designs! Five of our members also exhibited original designs using beautiful containers available at the Gallery. Take a look!
*****
Check out the Ichiyo Highlights from the 9th European Regional Conference that occurred in August, 2018 right here! There are some stunning designs that will take your breath away… If you have links to other schools from this Conference, please let me know. We'll be glad to post them for everyone as they are a wonderful source of inspiration!
******
Anne Marie Spriggs, our 2018-2019 Programs Chair and talented student of the Sogetsu School attended the 2018 European Regional Conference in Bruges, Belgium this summer. Here is her stunning creation from the Ilse Beunen Workshop on Lines: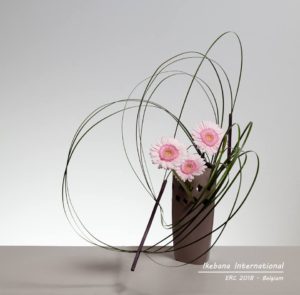 ******
Fall 2018 Sakura Newsletter! Our Sunken Gardens Exhibitions (February 2018) were featured in the recent edition of the Sakura Newsletter that goes to Members around the world! If you missed it, you can see it by clicking here!
Of Interest: Ikebana International Headquarters has an interesting site with information on each of the schools and the latest events. Check it out at:
www.ikebanahq.org/
The password for the Members Section is: 1956sakura
Dated September 2017: The following link will take you to a congratulatory letter and Certificate from Ikebana International in Tokyo acknowledging our 55th Anniversary!!
News from the World Convention 2017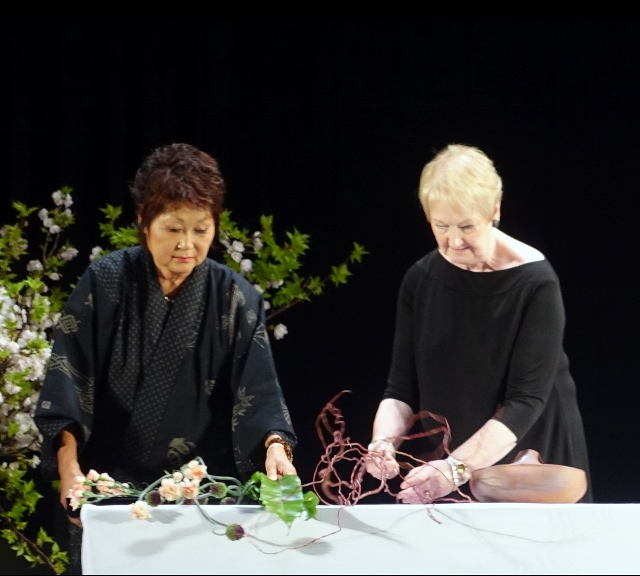 Donna Scott, (r) treasurer of Ikebana Chapter 265 Atlanta was the member demonstrator representing North America and the Ichiyo School. Jeanne Houlton (l), President of Ikebana Chapter 65 St. Petersburg was her asssistant.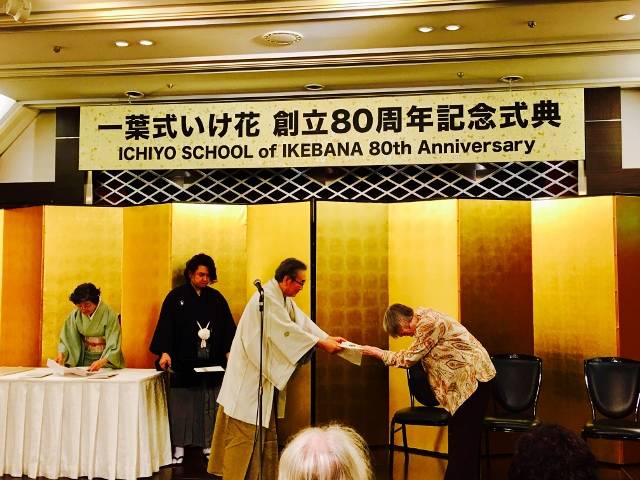 The Ichiyo School, Florida Chapter is proud to announce that our associate member, Gail Newman received her Junior Master Certificate from Iemoto Kasuya at a special event in Tokyo to celebrate the 80th anniversary of Ichiyo School On April 17, 2017.