Art in Bloom ! The annual Art in Bloom Exhibition sponsored by the Margaret Acheson Stuart Society is Thursday March 28 through Monday, April 1, 2019. This year the theme is Ikebana! Our Chapter has been invited to provide large standing arrangements at the Luncheon on Friday, March 29 and Banmi Shofu, Ichiyo, Ikenobo and Sogetsu Schools will participate. The luncheon Speaker is Elaine Jo, a Master of the Ichiyo School!
Click here for the Invitation with full details and the Luncheon Reservation Form.
*******
October 7 – 14, 2018 The Art of Ikebana Exhibit will be featured inside the "At Home with Craft" show at the Florida Crafts Art Gallery. The exhibit will feature fresh flower designs by members of our Ikebana International St. Petersburg Chapter and a demonstration by one of our Teachers, Ichiyo Ikebana Artist, Kathy LaDuke!
Sunday, Oct 7: 1 pm Ikebana opening reception
2 pm Ikebana demonstration by Kathy LaDuke
The Florida Crafts Art Gallery is located at 501 Central Avenue in St. Petersburg.
*********
Japan Fest Atlanta 2018!
There was a terrific Ikebana exhibit by the Ichiyo School at the Japan Fest Atlanta 2018 held Sep 15-16, 2018 at the Infinite Energy Center. The arrangements are wonderful…..especially so because they're all done by students – not masters of the technique. Check them out here!
**********
The European Ikebana International Regional Conference!
In August, 2018, Ichiyo Iemoto Designate Naohiro Kasuya was the demonstrator for the European Ikebana International regional conference held last week in Bruges, Belgium.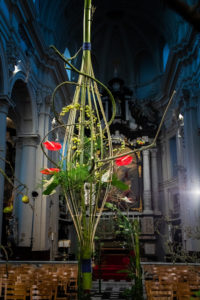 To see more pictures of the Iemoto-designate's creations in a unique cathedral setting, click here.
Following the meeting, extraordinary creations by the members were exhibited.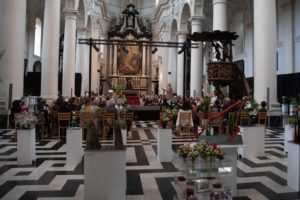 Click here for those remarkable photos!