Additional activities of interest to Ikebana members!
March 14, 2018 Naples Chapter #160, Special Event Luncheon featuring Riji Susan Cano. Susan holds the highest teacher level in the Sogetsu School of Ikebana. This event often sells out early so register soon: Registration Form. Click on the link to see a slide show of Susan's creations: https://www.ikebananaples.com/susan-cano/
March 22-26, 2017 Art in Bloom at the Museum of Fine Arts, St. Petersburg. Sponsored by the Margaret Acheson Stuart Society.
NEW! April 10, 2017: Ichiyo Demonstration by Iemoto Akihiro Kasuya!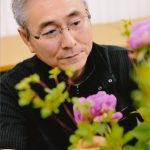 It is with great honor that the Ichiyo School of Ikebana Florida Chapter will host the Headmaster of the Ichiyo School, Iemoto Akihiro Kasuya. Assisted by his son, the future Iemoto, Naohiro Kasuya, he will give a demonstration of compelling Ichiyo designs. Members of all Ikebana schools and lovers of beautiful design will enjoy watching this remarkable Master at work!!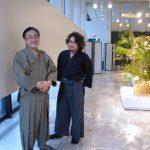 Naohiro's first demonstration occurred here in St. Petersburg in 2004 and since then, he has been in demand worldwide. His most recent demonstration was in India. It is incredibly rare to have an Ieomoto AND his designee visit our community. This is definitely an event you don't want to miss!
Date: Tuesday, April 10, 2018
Ticket: $ 45.00 (Numbered tickets will be mailed to attendees)
Place: The Catherine A. Hickman Theater 5501 27th Ave. S. Gulfport, FL 33707
Send Checks to:
Eileen Rossi, 7600 Bayshore Drive, #902, Treasure Island, FL 33706
Make checks payable to:
Ichiyo School of Ikebana – Florida
For Questions:
Email: ichiyo35@tampabay.rr.com, Phone 727-367-1253
First come, First Served! Limited Seating Capacity!!!