Predicated on the concept that Japan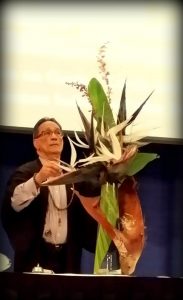 presents itself with contrasts of ancient traditions and modern expressions, the March 2018 performance by Banmi Shofu Ryu is appropriately titled "Contrasts of Banmi." The performance will feature designs that highlight contrasts of various expressions: form, size, color, texture, materials, or a juxtaposition of these contrasts.
Iemoto Ric Carrasco will provide a demonstration of the exquisite contrast features of Banmi Shofu School. The program will be followed by a General Meeting, a lite BYOL, and afternoon classes by school for Chapter members.
If you have questions or plan to attend as a guest, please let us know by submitting the Contact Form.