For our closing Program of the year, members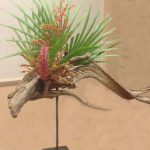 of our various schools will demonstrate designs using driftwood. These include: Kathy LaDuke from Ichiyo, Laurel Fooks, from Banmi Shofu, Susan Thorpe from Ohara, Patsy Beyer from Sogetsu, and Ming Zhu from Ikenobo School. Following the Program we will have our Annual Members Meeting and a potluck luncheon to close the year.
If you have questions or plan to attend as a guest, please let us know by submitting the Contact Form.