In the Spirit of the Holidays, Loris Dallal will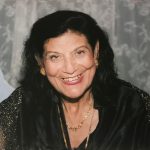 present a variety of festive arrangements. A member of our Sister Chapter, #160 in Naples, FL, Loris is an highly accomplished Sogetsu Demonstrator and Teacher. Please check out more information by clicking on the Flyer and Loris' Resume. The Program will be followed by our Annual Holiday Potluck Luncheon and an "Experiences Auction" by that famous auctioneer, Margaret Salmon!
If you have questions or plan to attend as a guest, please let us know by submitting the Contact Form.