September 16, 2019 10:00 a.m.
Evans Hall

Highlights of the Sogetsu School
The philosophy of the Sogetsu school is that Ikebana can be arranged by anyone, anywhere, with whatever material is available.  Natural and man-made materials are widely used, often in unexpected ways. 
Barbara Goss is a Second Grade Sanyo in the Sogetsu school.  She and her teachers provided an overview of specific principles by creating an arrangement live and then discussing a second example.
In the afternoon, a Sogetsu workshop gave all chapter members the opportunity to create an arrangement.
Enjoy our photos from this event to the right–>
October 21, 2019 10:00 a.m.
Evans Hall

Discover the World of Miniature Designs & Techniques
A terrific program was offered by  Sensei Muriel Scrivner, Senior Professor 1st Class of the Ikenobo School!
Enjoy photos of these delightful miniatures in the slide show to your right—>
November 18, 2019 10:00 a.m.
Evans Hall

Leaf Manipulation
Chapter members Gail Newman, Susan Taylor and Laurel Fooks  demonstrated various types of manipulation such as weaving, plaiting and how to change the shape of aspidistra leaves.  When altered, they can be used in exciting ways to create Ikebana arrangements.
Look at the amazing results!! —————————–>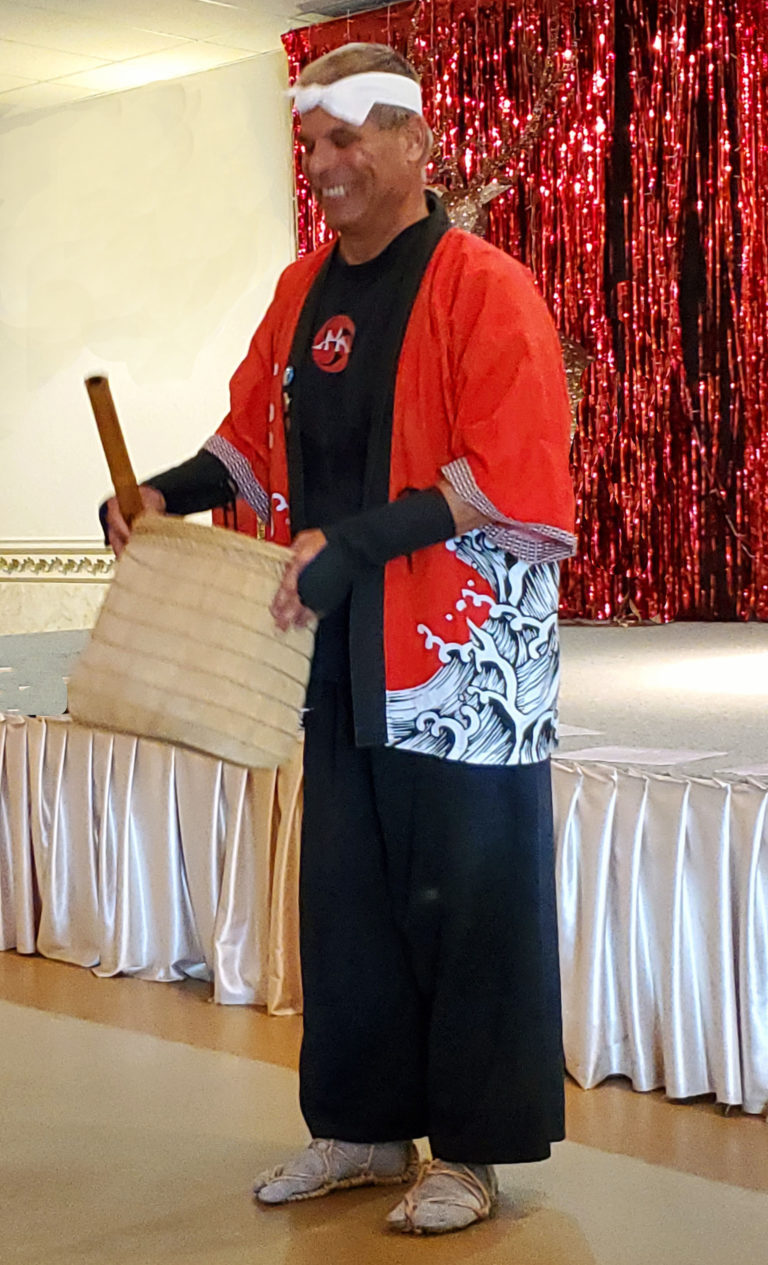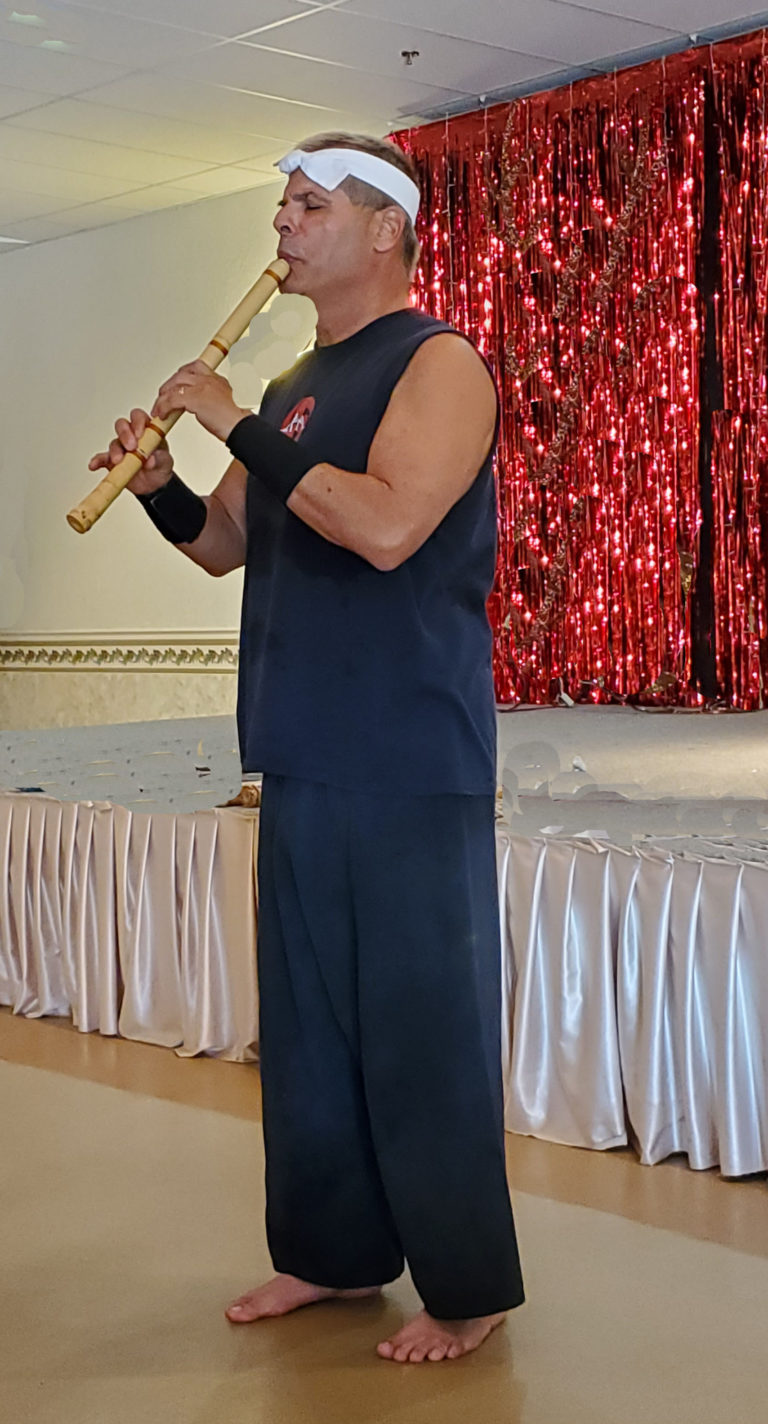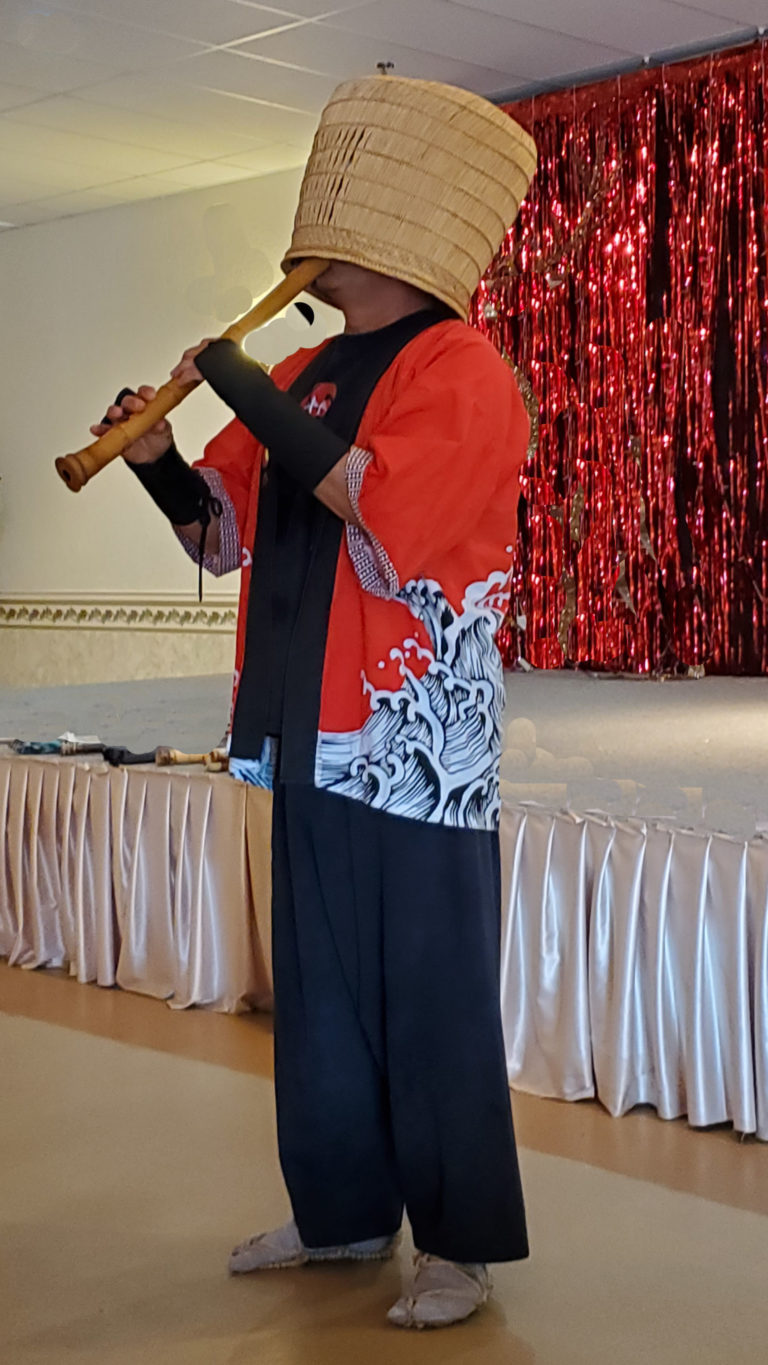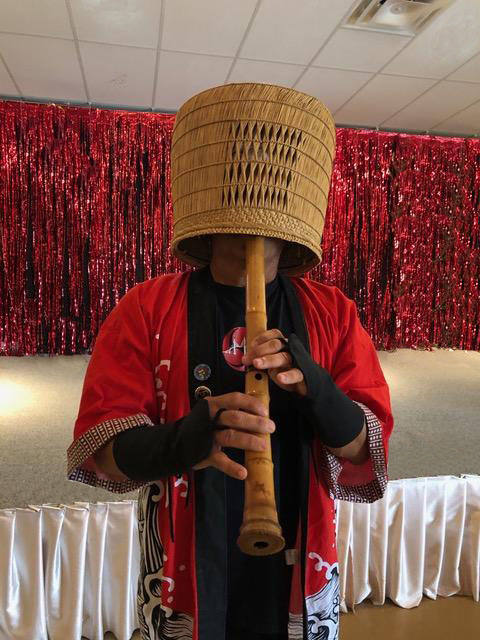 December 16 2019 10:00 a.m.
Evans Hall

Tampa Taiko: Traditional Japanese Performing Arts
For hundreds of years, the bamboo flute has been used to meditate and create awareness.  This presentation centered around the Shakuhachi, the Japanese Bamboo Flute.  Ron Collins performed traditional and neo traditional music.
<——————Images from the Program
For more information on the Shakuhachi, please visit our Culture page by clicking here!
January 22, 2020 10:00 a.m.
Hilton St. Petersburg Carillon Park

Annual Demonstration and Luncheon
The annual demonstration and luncheon event for 2020 featured Valerie Eccleston, an Executive Master of the Ichiyo School.  Ms. Eccleston came to us from the Washington, DC Chapter #1 (Yes, the original founding chapter in the US) and is a favorite on the Ikebana circuit.  Following the demonstration, a delicious three course luncheon was served with the ever-popular basket raffle.  
Please note the change of location for this year's event.
On January 23, 2020  (8:00 – 3:30) Ms. Eccleston conducted workshops at Evans Hall.  Click HERE for workshop descriptions and registration form.
We hope you enjoy these lovely images courtesy of Gail Newman!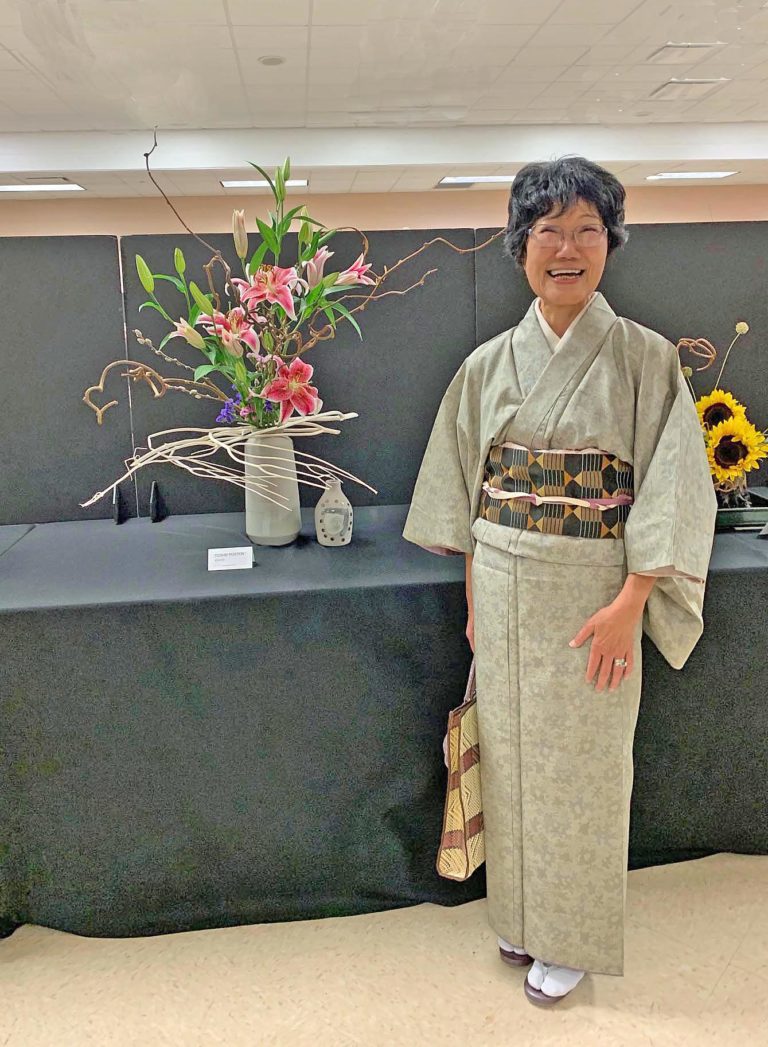 February 17, 2020 10:00 a.m.
Evans Hall

Learn All About Kimono!
Presenters, Joan Gushiken and Kimiko Ikeda, explained everything you wanted to know about kimono.  The presentation  included the history, types of kimono, dressing process and the care of kimono.  They illustrated their presentation with various kimono from their personal collection.
Click HERE to link to lovely pictures from this program!
CANCELLED due to COVID-19
March 23, 2020 10:00 a.m.
Evans Hall

What is Sumi-e???
Join Beverly Feldman, a member of the Sumi-e Society of America, Inc. as she explains how from an early age, she found the art of Sumi-e or Black Ink Painting and Chinese Brush Painting to be very beautiful.  She has studied with Master Jiashan Mu, Helene Sze McCarthy and Keiko Romerstein.  Recently, she has become interested in the art of calligraphy, the strokes of which form the basis of Sumi-e.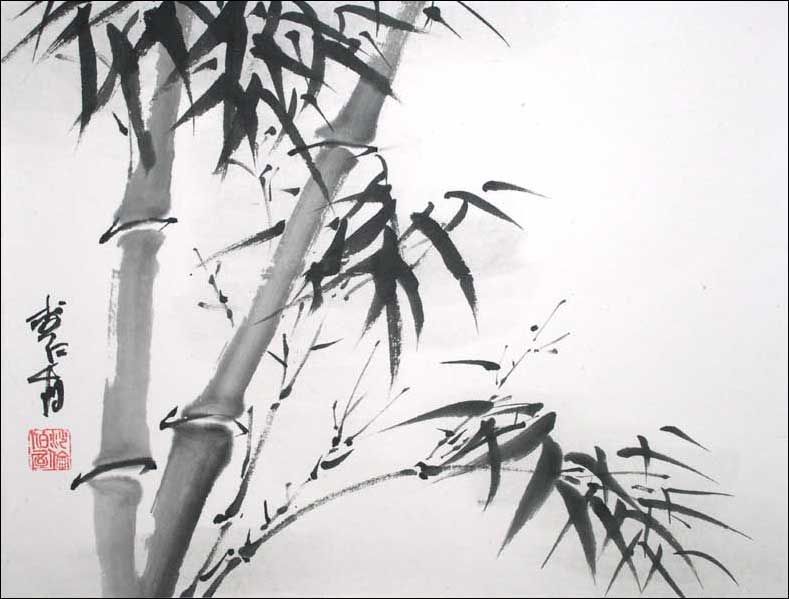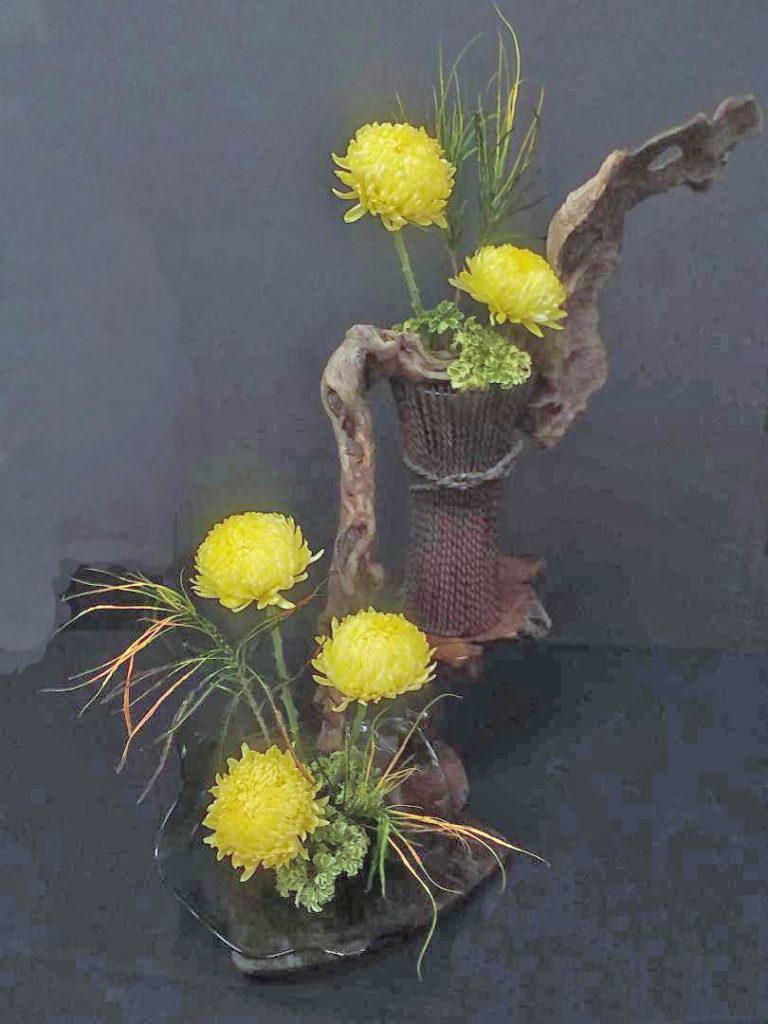 April 20, 2020 10:00 a.m.
Evans Hall

Highlights of the Banmi Shofu Ryu School of Ikebana
Iemoto, Dr. Ric Carrasco, and his teachers will explain the history and principles of the Banmi Shofu School and provide a demonstration.  There will be an afternoon Banmi Shofu Workshop for members.  Bring your lunch!
May 18, 2020 10:00 a.m.
Evans Hall

Using Baskets to Create Ikebana Arrangemenets
Members representing all schools of our chapter, Banmi Shofu Ryu, Ichiyo, Ikenobo, Ohara and Sogetsu will demonstrate.  Additional information is forthcoming.