April 17, 2019: Our very own Muriel Scrivner, Senior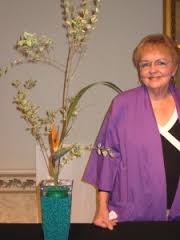 Professor of the Ikenobo School was been invited to provide a Demonstration for the Boston Chapter #17! If we're able to get pictures, we'll post them right here for your enjoyment!
*******
March 23, 2019 The Ichiyo Spring Demonstration in Washington, DC by our very own Jeanne Houlton, Ichiyo Master, was a great success. Take a look! Click on the thumbnail to enlarge.